New to UIC this semester? Compete the in the Commuter Dash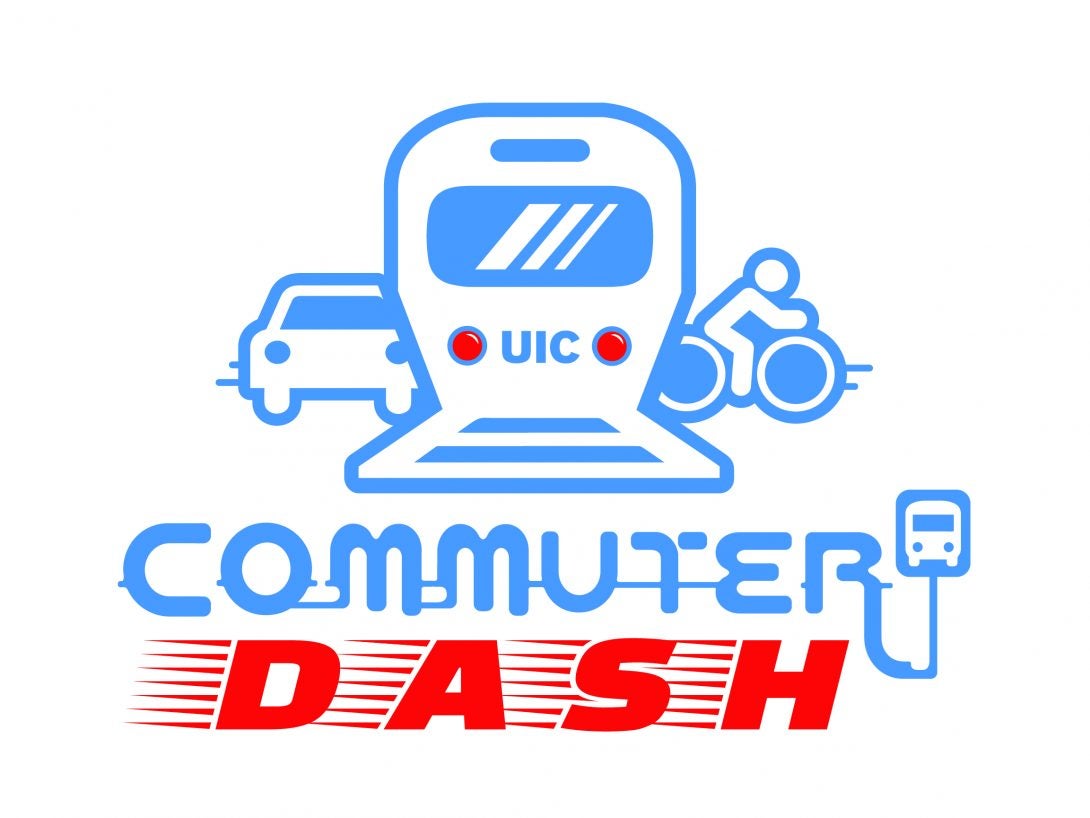 The Commuter Dash is a week-long virtual and in-person scavenger hunt for new incoming and first year students at UIC. This is a chance for new students to attend events, explore campus, meet students/staff and win prizes! The Dash officially begins January 10 and runs through January 17th.
Prizes – What You Could Win!
During the Commuter Dash, you will complete specific tasks to earn points. These tasks can include visiting specific locations, uploading selfies, answering questions, and more! The more tasks you complete – the more points you earn! Our prizes include:
Top Prize: $50 Gift Card to the UIC Bookstore (awarded to student with the most points)
Top 20 students: Custom Commuter Dash Gym Bag
All students who compete will receive a custom Laptop decal (visit the front desk of the Commuter Student Resource Center – SCE Suite 245) all this week to pick up your decal!)
Students who complete at least two tasks will be entered into a drawing to receive a $25 iTunes gift card!
*All winners must be incoming first year and transfer students new to UIC spring 2020.
How to Compete in the Dash
Download the "Scavify" app on iOS and android devices
Create an account using your UIC email
Search "UIC Commuter Dash"
Complete tasks and win prizes. Tasks will become visible with the Dash starts on January 10th.
Commuter Appreciation Days (Monthly)
The Commuter Student Resource Center (CSRC) aims to celebrate the commitment UIC off-campus students makes to their education. One day each month, CSRC staff will host on-campus events that can include community-building activities and prizes. Please see the dates for our upcoming Commuter Appreciation Days below. More details on what you can expect at each Commuter Appreciation Day will be provided here as the date approaches.
Spring details coming soon!
Commuter Connect
Every few weeks, the CSRC team will host a community-building event in the center and around campus. Each event is centered around a specific activity, providing a chance for students to connect and decompress. Please see the dates for our upcoming UIC Connect events below. More details on the activities that will be featured in these programs will be provided here as the dates approach.
Commuter Connect: DIY Home Decor
Monday, September 9, 2019
12PM-2PM – Commuter Student Resource Center, MPR
There's no place like home! Or your car! Or your locker! Join us for our first Commuter Connect event of the semester and create your own canvas, pin, and string work of art!

Commuter Connect: Dandiya Craft and Garba
Join us for our next Commuter Connect event! Make your own Dandiya sticks (decorative sticks used in Garba dance), practice some key Garba dance steps and learn more about Navaratri – the Nine Night Festival.
Tuesday, October 1, 2019
11AM-2PM
Commuter Student Resource Center, Multipurpose Room
Commuter Connect: Halloween
We are still planning this creepy event. Join us for our Halloween-themed Commuter Connect event. Details to come but please save this date!
Wednesday, October 30, 2019
11AM-3PM
Spring details coming soon!
Commuter Meet-Ups
Don't go it alone! Throughout the spring semester, the CSRC team organize meet-ups to events taking place on and around campus. A CSRC student worker will set times, dates, and locations for upcoming events. Please check back to this page to learn more about which on-campus events will be selected as a "Commuter Meet-Up."
Spring details coming soon! 
Subscribe to the Commuter Pulse Podcast
The UIC Commuter Pulse is a podcast dedicated to exploring the lives of commuting students at the University of Illinois at Chicago. New interviews, guided tours, and guests are available throughout the fall and spring semesters. Made by students for students.
Interested in joining the Commuter Pulse Podcast team? Let us know! Contact us at Commuter@uic.edu to learn more about how you can get involved. From recording, editing, episode design and more – there are a variety of ways for you to lend your talents to the podcast.
How to Access the Commuter Pulse Podcast
You can access the Commuter Pulse Podcast via iTunes or Sound Cloud. Direct links are available below:
SoundCloud: soundcloud.com/user-14282220
Apple Podcast: https://podcasts.apple.com/us/podcast/commuter-pulse-podcast/id1459254640
Join a Commuter Chat
This resource is designed to connect students who may live and work in the same area. Students are placed in GroupMe Chats which are created based on your preferred region. Students who join a chat in their preferred region(s) can:
Connect with peers from their area

"Who here is also an Engineering major?" or "I'm a graduate student in English – is anyone else?"

Share their interest in carpool or joint travel options

"Does anyone commute on Metra and want to ride together?" "Anyone interested in carpooling from the northwest suburbs?"

Plan to meet up at events

"Is anyone planning to go to Late Night Finals Breakfast?"
About the Groupings
We have multiple chats available to students based on regions of Chicago and Chicagoland. Students are welcome to join more than one chat depending on their preference (for example, a student may join a chat for an area closer to where they work and another chat closer to where they live). Review the form to see specific breakdowns of what neighborhoods or Metra lines are associated within each area to decide which region chat is best for you.
North/Northwest Suburbs
South/Southwest Suburbs
West Suburbs
Far North Side
Northwest Side
North Side
Central Chicago
UIC Campus
West Side
Southwest Side
South Side
Far Southwest Side
Far Southeast Side
How to Join a Commuter Chat
Complete the following form: https://uic.campuslabs.com/engage/submitter/form/start/366532
Indicate which conversation groups (regions) you wish to join (you can join more than one)
Once you submit your form, the COCL team will review your request and confirm your identity as a current or new UIC student. After that, you will be manually added to the group.
Start chatting!
Regarding Safety and General Conduct
In joining a UIC Commuter Chat, know that you are still expected to abide by all University policies (provided here: https://dos.uic.edu/wp-content/uploads/sites/262/2019/01/FINAL-VERSION-2019.pdf). Additionally, we reserve the right to remove members who make comments or engage in language that can qualify as discrimination or harassment based on race, color, religion, sex, national origin, ancestry, age, marital status, disability, sexual orientation including gender identity, military status, and citizenship status.
See the general guidelines for behavior within the Commuter Chat(s) below:
Language: Avoid inappropriate language (such as profane words or phrases) in any language.
Images: You are welcome to share photos in the group chat. However any images you share should not include profane language or graphic content.
Respect: Should you contact a user and they express that they are not interested (or no longer interested) in chatting, respect their decision and cease contact. For example:

A student poses that they are interested in finding someone to carpool with. After chatting, they share that they are no longer interested in carpooling or cease responding to your messages, respect their wishes and stop contact.

Best Judgement: We advise you to exercise your best judgement in deciding whether to meet another UIC student outside of the chat. We suggest first meeting on campus in a public space prior to exploring potential travel with another UIC student.
This guidelines as well as additional directions related to reporting concerning behavior will be shared with all chat members via email.