Commuter Appreciation Days (Monthly)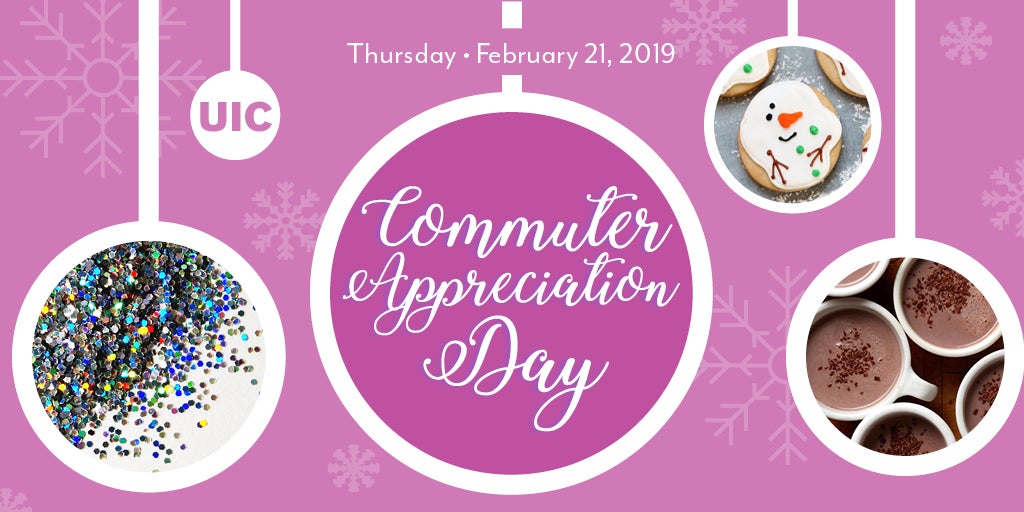 The Commuter Student Resource Center (CSRC) aims to celebrate the commitment UIC off-campus students makes to their education. One day each month, CSRC staff will host on-campus events that can include community-building activities and prizes. Please see the dates for our upcoming Commuter Appreciation Days below. More details on what you can expect at each Commuter Appreciation Day will be provided here as the date approaches.
Thursday, February 21, 2019
ALL DAY
Connect with Argo Tea (Main Lounge)

9AM-10:30AM
Get Sweet Treats from Argo Tea!

Hot Cocoa Bar (Main Lounge)

12PM-1:30PM
Customize your own hot cocoa.
While supplies last.

DIY Calming Jar (Multipurpose Room)

12PM-2PM
Create your own stress-relieving glitter jar.

Winter Wonderland Cookie Decorating (Multipurpose Room)

3PM-5PM
Decorate a Winter Wonderland themed sweet treat with your friends!
Commuter Connect
Every few weeks, the CSRC team will host a community-building event in the center and around campus. Each event is centered around a specific activity, providing a chance for students to connect and decompress. Please see the dates for our upcoming UIC Connect events below. More details on the activities that will be featured in these programs will be provided here as the dates approach.
Commuter Connect: UNO Tournament
Jan. 22  –  3:30PM-5:30PM
Love UNO? Compete in rounds of UNO for sweet prizes!
Commuter Connect: Valentine Cookies
Wednesday, February 13  –  2PM-5PM
Get into the loving spirit. Relax and chat while decorating your own valentine-themed sugar cookies. While supplies last.
Commuter Connect: Super Smash Bros. Tournament
Feb. 28  –  12PM-2PM
It's that time. Show off your skills at Super Smash Bros. and compete for prizes and bragging rights.
Commuter Connect: Shamrock Bracelet
March 19  –  3:30PM-5:30PM
Learn how to make a parachute-cord bracelet in the shape of a beautiful shamrock. A great gift for yourself or someone you think could get into the spirit.
Commuter Connect: TV Trivia
April 10  –  1PM-3PM
Are you a fan of TV? So are we! Back by popular demand, join a team and test your TV knowledge for prizes.
Commuter Connect: Earth Day Succulents
April 25  –  3:30PM-5:30PM
Learn more about Earth Day and arrange your own succulent plant. You can paint your own pot using acrylic paints as well! While supplies last.
Commuter Meet-Ups
Don't go it alone! Throughout the spring semester, the CSRC team organize meet-ups to events taking place on and around campus. A CSRC student worker will set times, dates, and locations for upcoming events. Please check back to this page to learn more about which on-campus events will be selected as a "Commuter Meet-Up."
Commuter Meet-Up: Winter Involvement Fair
Learn more about on-campus organizations at UIC.
Wednesday, January 23 and Thursday, January 24
– On either date, meet in the Commuter Student Resource Center Main Lounge at 11:15AM or 1:00PM.
– We will walk students to the Illinois Room and enjoy the event together.
Commuter Meet-Up: Men's Basketball Game – UIC vs. Detroit Mercy (80's Night)
Have you seen the Flames play? Join us. At this special 80's themed basketball game, the first 1,000 guests will receive a limited edition 80's themed Flames hat.
Thursday, January 24
Commuters will meet at the Credit Union 1 Arena lobby (formerly the Pavilion; 525 South Racine Chicago, IL, 60607) at 6:30PM.
Look for the Commuter Assistant holding a laminated "Commuter Meet-Up" sign.
Game begins at 7:00PM.
Tickets are free for UIC students – must present an I-CARD.
Commuter Reward Program (New)
We are revamping our reward program for spring. New details will be posted in late January.