Contact
Commuter and Off-Campus Programs is located in the Commuter Student Resource Center on the second floor of Student Center East (750 South Halsted). Enter through the doors to the right of Circle Burger, off the Inner Circle. Go through the Wellness Center to access the Commuter Student Resource Center.
Summer Hours:
Mon. May 13 - Fri. May 24
Monday-Friday:
9AM-3PM
- Lockers and Coffee/Tea Unavailable
Mon. May 27 - Fri. Aug. 23
Closed for Renovations

This summer, the Commuter Student Resource Center will be closed for renovation late May to early August. Commuter and Off-Campus Life staff will remain in the center through May in preparation for the construction but will relocate to a temporary work location in Student Center East. Updates on our temporary location will be provided via e-mail and posted to our department webpage: commuter.uic.edu.Please read on for more information on where you can access resources during this closure.
Lactation Room Access:

For lactation room access in Student Center East, please visit the Student Center East Building Managers office located on the first floor near the Halsted Street entrance.

Microwave Access:

You will be able to access microwaves in the Inner Circle.

Locker Rental Access:

For locker rental access, you can visit the Building Managers office located on the first floor of Student Center East near the Halsted Street entrance. For more information on their locker rental process, visit: https://studentcenters.uic.edu/services/
We pledge to continue to field your questions via phone, voicemail, or e-mail.
Main Line: 312-413-7440
Main E-mail: commuter@uic.edu
Commuter Student Resource Center
750 South Halsted St.,
Suite 245, Student Center East,
Mail Code 330,
Chicago,
Illinois
60607
Getting to the Commuter Student Resource Center (CSRC)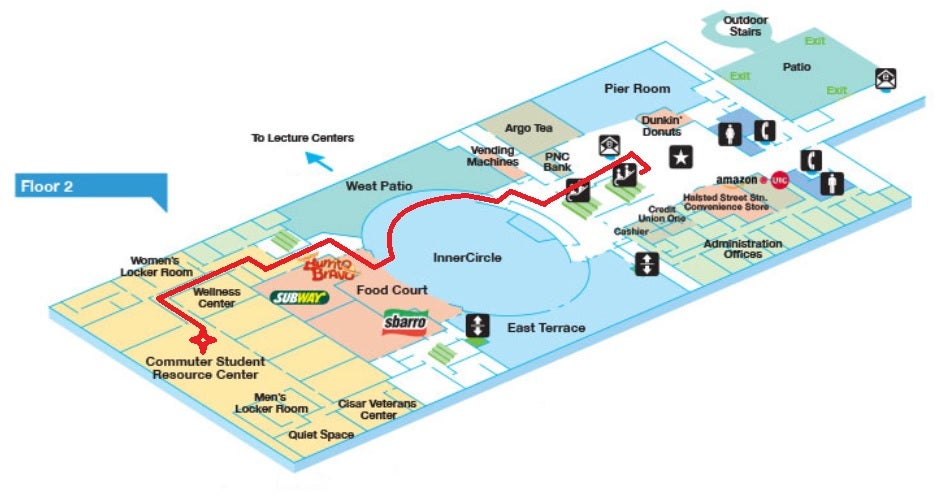 Map of Second Floor Student Center East