Contact
Commuter and Off-Campus Programs is located in the Commuter Student Resource Center on the second floor of Student Center East (750 South Halsted). Enter through the doors to the right of Circle Burger, off the Inner Circle. Go through the Wellness Center to access the Commuter Student Resource Center.
Starting August 10th, the Commuter Student Resource Center in 245 Student Center East will be open from 9:00 am to 5:00 pm Monday-Friday. It will begin opening at 8:00 am on Monday, August 24, which is the first day of the fall semester.
We appreciate your patience as we navigate this process.
Main Line: 312-413-7440
Main E-mail: commuter@uic.edu
Retrieving Your Items (Lockers)
We recognize that most of us did not plan to be away from campus for such an extended period of time. Should you have items in your Commuter Student Resource Center locker, we will have designated "Pick Up" days where we will be open for you to retrieve your items. Note: If these dates/times do not work for you, please e-mail Bonnie Bell (bonniebe@uic.edu) and we will work to identify an alternate date/time for you to pick-up your items. The currently scheduled pick up dates/times are available below:
August 10th - August 28th from 9:00 am to 5 pm
Locker Clean Out Extended: We plan to hold onto the remaining items until August 28th. August 28th will be the last day to claim your items. For any further questions or concerns please email commuter@uic.edu.
Commuter Student Resource Center
750 South Halsted St.,
Suite 245, Student Center East,
Mail Code 330,
Chicago,
Illinois
60607
Getting to the Commuter Student Resource Center (CSRC)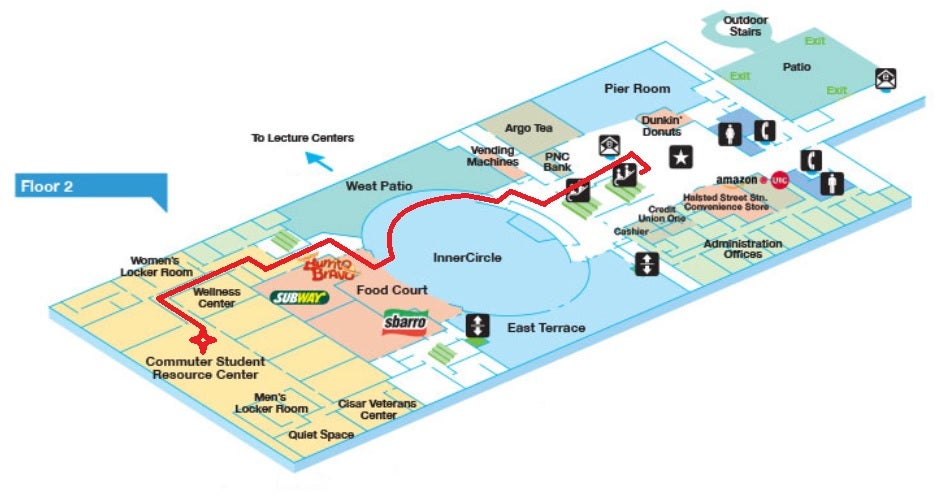 Map of Second Floor Student Center East